Flyer RED PLUS

Tennis Best article on RED PLUS

Newsletter November 2014

47 Photos
Advantages:
Real reinforced red earth field!
Usable 12 months a year!
Unbeatable value for money!
Guaranteed area for 10 years with only half a day of annual cutting!
Particularly low maintenance compared to traditional red earth fields!
Patented and ITF Catalogued!
It can be installed on any existing surface: cement, mateco, earth, resin, etc.
Savings on background preparation costs for new constructions
Does not need to be stopped after construction
Not afraid of wind (windproof land)
He's not afraid of frost
Very high water drainage
Minimum red earth reload for maintenance
No holes are formed
Maintains its features and softness of play over time
Slipped in the same way as traditional clay courts
ITF (International Tennis Federation) Certificatonsi:
Cataloged "Slow 1" exactly like a traditional red clay field, but with certified "Two Stars" certification of excellence!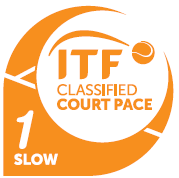 International map of RED PLUS fields