OCTOBER 25, 2008 – historic date for the club with coverage of 4 fields for the winter season with 2 nearstatic balloons!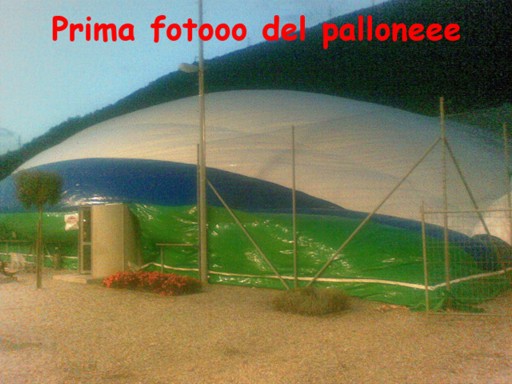 What does die-static mean?
It has no rigid carrier structure. The support and stabilization of the cover membrane are obtained thanks to the physical principle of overpressure created in the internal environment.
They can be made in both simple and double membrane; in the second case, a high energy saving is obtained due to insulation (thermal insulation) which results.
Some technical information about the balloon:
made of double membrane
material having a 100% Trevira high toughness polyester fabric
covered by both parts with fire-retardant polyvinyl chloride (PVC) under ministerial standards class 2
stabilized to UV rays
width 36 meters
length 36 meters
covered area 1,296 m2
membrane thickness 5 mm
total thickness 75/100 mm (including air)
total weight 900/950 g/m2 -> 1'166.4/1'231.2 Kg
maximum height 10 meters and 50 cm (center)
direct internal light
20 lamps (asymmetric disano type) of 400 W
internal temperature of about 16 degrees
assembly 3/4 days
swells in ca. 30 minutes
Thanks also to the Italian company Teloni Poletti, supplier of the http://www.telonipoletti.it.
History: