Update:
On Friday, May 22, 2015 at 6:30 pm the finals of the tournament in question will take place…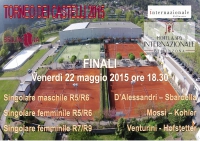 Final poster
Posted on April 17, 2015 by admin
Hello everyone
from 24.04.2015 to 01.05.2015 the Torneo dei Castelli will take place, singular SM and SF R5/R6 and R7/R9 at the TCB. Official sponsor will be Hotel & SPA Internazionale di Bellinzona and Bellinzona International Restaurant.
Registration is open until 20.04.2015.
Official poster